I have been shooting Pentax cameras exclusively since 1981 when I bought my first camera, a Pentax ME Super.  Since that time I have owned 4 of their SLR's including my current digital SLR the Pentax K5.  All of these cameras have had five things in common:
1.  They all take the Pentax K bayonet mount lenses and Pentax build (and have built) some truly outstanding lenses.
2.  They all have a logical and intuitive user interface, something Pentax excel at. 
3.  They are better built than equivalently priced Nikon, Canon, Olympus etc cameras.
4.  Heritage and engineering excellence.
5.  Photo quality
Examining each of these points in turn:
The Pentax K bayonet mount remains perhaps the most famous camera lens mounting system in the world.  Launched in 1975 it remains the one constant in a world of camera change.  Crucially what this means is that you can buy the latest and greatest Pentax digital SLR in 2013 and use any K mount lens built since 1975 on it.  This respect for heritage is unique amongst camera manufacturers - the majority of whom are delighted to change their lens mount system every few years in order to force their loyal customers to go out and purchase a whole new range of lenses.  I like that and it's increasingly rare in a world where companies are run by bean counters who seek to maximise profit at the expense of consumers.  As a result there is a thriving secondhand market for secondhand Pentax lenses and some outstanding bargains can be had on superb glass if you purchase secondhand.
Technically too the cameras support this by offering unique features such as 'in-body' shake reduction systems.  Where Canon, Nikon etc fit their shake reduction systems in their lenses, Pentax fit them in the body to the sensor itself.  What this means is that when you use an old 1981 Pentax 50mm F1.7 prime (optically stunning by the way) as I do, you get the benefit of shake reduction - indeed that system will be helping to keep your pictures sharp no matter what lens you fit.
The user interface on Pentax cameras remains one of the very best available - it's something they are very good at.  Controls are clearly laid out, there are more function buttons on the camera and less settings that have to be changed by digging deep into software menus than most other cameras I have tried.  What this means is I'm less likely to miss a shot because I'm fiddling about and the camera doesn't get in the way of taking pictures.  Shutter speed is controlled by a wheel just in front of the shutter button, aperture by a wheel on the back plate where the thumb naturally rests.  Mode selection is done by the command dial to the left, depth of field preview by a rotating ring around the shutter button.  Everything falls nicely to hand and I can control all the prime functions on the camera with physical controls not menu settings.  My experience with Canon is that they too tend to be pretty intuitive but Nikon seem to specialise in overly complex control systems - which is a shame because they build some lovely cameras...
Build quality.  In my view this is an area where Pentax utterly dominate the market and you have to look at Leica or the professional Canon at Nikon cameras to come close.  My Pentax K5 (now superseded by the £900 Pentax K3) is made entirely of magnesium alloy on a steel chassis.  It is fully weather sealed from water, dust and cold via 77 special body seals and Pentax offers a full range of sealed lenses to match including even the standard kit lens that ships with the camera.  Only the £5000 top of the pro line Nikon and Canon cameras get anywhere close to either this level of construction or sealing - so an EOS 1D at £5000 probably would equal the Pentax at around £900.   Ask yourself how often it rains in the UK or how often you might want to use your camera on a canoeing, cycling, hill walking trip?  Ask yourself how many times you've wanted to take pictures at a school sports day or gone for a walk and it's started to rain...  I don't want to have to stop shooting just because the weather turns and I want to have confidence that my camera won't let me down. 
When I bought my K5 I actually was thinking of switching system entirely to the Nikon D7000 which had rave reviews but just picking it up and feeling how plasticky it felt compared to the professional cold metal feel of the Pentax convinced me otherwise.  If you want to see how tough Pentax DSLR's are watch this video of a soldier in Afghanistan pouring sand over his Pentax gear and then using the field shower to wash it off:  https://www.youtube.com/watch?v=Eo61t5fH6Qw - it still makes me wince but it's a testament to engineering excellence.
Heritage and engineering excellence.  Pentax can trace their history back through over 70 years of innovation and ground-breaking design:
1952 Asahiflex 1  First Japanese SLR camera and first to use 35mm film
1954 Asahiflex 2 World's first instant return mirror system eliminates mirror blackout when taking pictures
1957  Asahi Pentax introduces the fixed Pentaprism to enable eye level shooting through the lens
1957 Pentax Auto-Takumar lenses are the first lenses with automatic lens diaphragms controlled by internal signalling between body and lens to permit instantaneous stopdown and re-opening after shutter release
1960 Pentax Spotmatic Pentax pioneers world's first in pentaprism TTL metering system
1966 Pentax Nocta World's first infra-red focussing system enables focus confirmation in total darkness
1969 Pentax 6x7 world's first medium format camera with 35mm style handling and features
1971 Pentax ES World's first aperture priority mode with TTL metering
1971 Pentax invent multi-coating lens process for up to 9 layers of lens coating later licenced by Zeiss and everyone else.  Even today Zeiss lenses use Pentax SMC coatings.  Up to that point nobody had managed to put more than 4 layers of coating on a lens and many lenses still had no coatings or single layers.
1975 Pentax K mount launched
1976 Pentax MX World's smallest and lightest SLR camera
1979 Pentax ME Super World's first SLR with push-button control
1980 Pentax ME-F World's first autofocus SLR - a full 10 years before this became commonplace
1981 Pentax is the first manufacturer to produce 10 million SLR's
1985 Pentax D3000 First 35mm SLR camera with DX film sensing
1987 Pentax SF-7 World's first SLR with automatic pop up flash
1997 Pentax 645N World's first autofocus medium format camera
2003 Pentax Ist d, first digital Pentax SLR and smallest and lightest DSLR in the world
2006 Pentax Ist DL - First DSLR for less than £500
2006 K100D Pentax first body with in body stabilisation (no Nikon or Canon camera to date has ever had this feature because they build it into their lenses, but you pay extra for it everytime you buy a lens...)
2008 Pentax K20D First budget/prosumer DSLR with weather sealing
2010 Pentax 645 D first digital medium format camera with SLR like handling qualities
2011 Pentax Q Worlds smallest and lightest interchangeable lens camera system launched
2011 Pentax 645D wins 'camera of the year' and voted best professional DSLR by TIPA
2013 Pentax K3 pioneer's world's first selectable anti-aliasing system, wins best DSLR of the year (TIPA)
2014 Pentax 645Z 51 megapixel medium format DSLR launched at a price point £7000 one third of its Hasselblad competitors.  First medium format digital camera with on board video recording.
Photo quality
When I bought my Pentax K5 I evaluated lots of reviews of it one web and found DXO Mark - an independent testing laboratory who said the following:
In short the K5 is simply the best APS-C we have tested so far, sometimes able to compete even with very high-end full-frame cameras.
The overall score of the K5 puts it in the lead with 82 points — more than 9 points better than the D90 or the Alpha 55, and 16 points ahead of the Canon 7D or 60D. The K5 is literally the best APS-C performer for each segment, even in low ISO.
Wonderful Dynamic Range performance
Dynamic range is clearly where the K5 struts its stuff. The scores it reaches at ISO 80 are simply impressive: at 14.1 Ev (print mode), even the D3X's full-frame sensor is not that good. Smoothing appears at ISO 3200 but does not impact the metrics.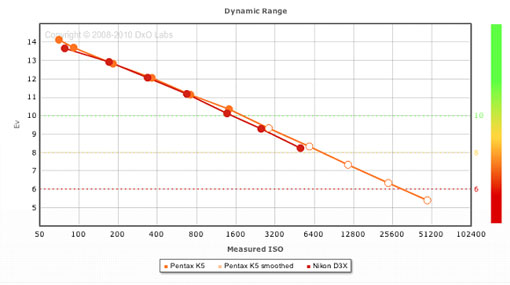 Final thoughts.  So in conclusion then Pentax have certainly made a very significant contribution to the development of photography.  Little wonder then that when David Bailey shot Jean Shrimpton for Vogue in New York in the most important and revolutionary fashion shoot in history he threw his medium format camera away and picked up a Pentax SLR. 
Today I too shall pick up my Pentax as countless millions of amateurs and professionals have done before me and I will thank those Pentax engineers down the years who have helped to give us all the incredible cameras we enjoy today whether they are a Pentax, a Nikon, a Canon or an Olympus.
Happy shooting!
Jonathan